Article last updated on:
November 20, 2023
Study how to delete your ChatGPT account.
In this guide, we'll show you the two methods:
Directly deleting your account
Asking OpenAI, ChatGPT's maker, to do it for you
Deleting your account + data is 100% free.
Let's dive in.
How to I permanently delete your ChatGPT account
To permanently delete your ChatGPT account: Open the app > Click your name > Settings > Data Controls > Delete Account > Confirm.
We'll now take you through the step-by-step process.
Method 1: Settings
This implies doing it yourself, from the very ChatGPT app.
1. Settings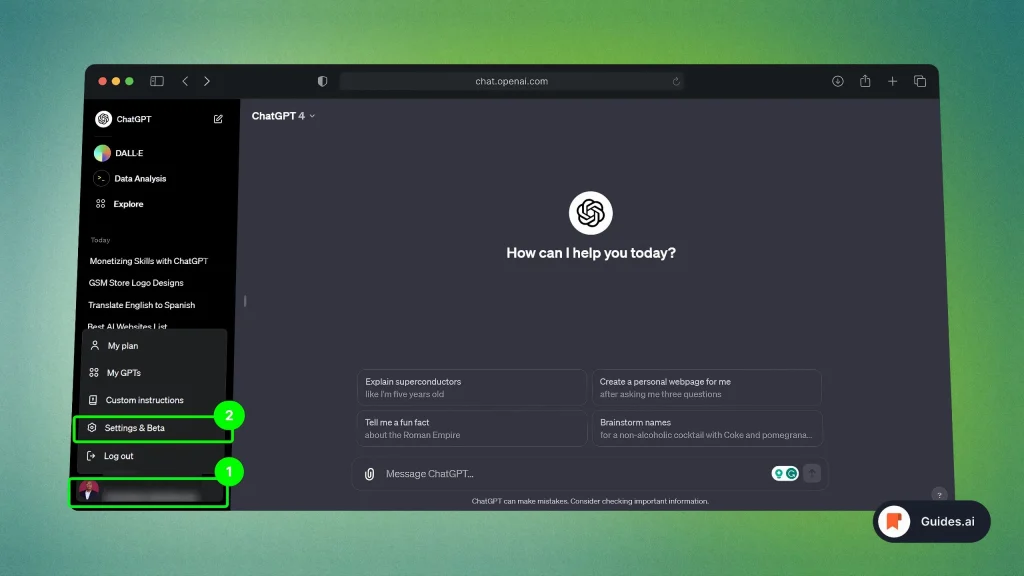 Open the ChatGPT Website
Click your name (bottom-left)
Select "Settings & Beta"
This will bring up a new screen with "General Settings".
2. Data controls
You now have to go to the "Data controls" section.
Look at the left side's menu
Select "Data Controls"
You'll now see different settings.
3. Delete account
Click the red "Delete" button
Confirm changes
Reminder: This action cannot be undone!

You're about to permanently delete your ChatGPT account.
If you agree with this, you've got one more step:
Your account is now deleted and you should be asked to sign up/log back into ChatGPT.
Done. Your ChatGPT account is forever gone, and your data is now deleted.
Method 2: Email
Open your Email provider
Compose a new message
Recipient:

[email protected]

Message: Tell the team that you want your account deleted
However, the first method is more reliable.
This is just as a back-up in case the first one doesn't work properly, for whatever the reason.
Conclusion
You're now up to date on the steps you need to take to delete your account.
Safely get out of the OpenAI & ChatGPT space with these two methods.
Hope you learned something new!
Learn how to become more productive with our guides on how to use AI.
Thank you for reading this,
Ch David and Daniel