Article last updated on:
November 22, 2023
Short answer: For the most part, ChatGPT is secure. As long as you don't share super personal information, you are 100% safe.
Concerned about your privacy and data while using ChatGPT?
In this guide, we will:
Show you the risks of using ChatGPT
Prevent you from unwanted events
Teach you how to stay safe while using the AI
Let's check this out.
ChatGPT: Safety and Risks
Below is our list of safety concerns regarding ChatGPT.
1. Not 100% private
Be cautious about what you share.
While ChatGPT says you are safe with it, you still shouldn't share sensitive data.
Why: Data is stored on OpenAI's servers and accessible to its team.
Note: Conversations contribute to training the model by default.
2. Collected data
Read ChatGPT's privacy policy.
It is strongly tied with the mother company's privacy policy — OpenAI.
Why: It gathers your name, phone number, IP, and more.
Clarification: OpenAI won't sell your data but may share it with selected partners and authorities.
3. Misleading answers
Double-check facts from ChatGPT.
The AI itself says it isn't always accurate.
It's always mentioned at the bottom of your screen
See for yourself:
Why: Responses can be biased or incorrect.
Limitation: The model can't cite its sources, making verification crucial.
4. Never too safe
Don't rely solely on ChatGPT's security measures.
Why: No system is 100% secure.
Reality Check: Even secure platforms can be hacked, risking your sensitive info.
Interestingly, this brings us to…
How to stay safe using ChatGPT
Follow these steps to remain safe privacy-wise using ChatGPT.
Below is our list.
1. Documenting
Read OpenAI's policy and terms of service — not just the privacy policy!
Why: Understand how your data is used and stored.
Pro Tip: Bookmark these documents for future reference.
You can find all of OpenAI's polices here.
2. Chat history
Go to Settings > Data Controls in ChatGPT.
Why: To prevent long-term storage of your chats.
Note: Chats may still be on OpenAI's servers for 30 days for review.
Learn more:
Let's move on.
3. Official apps
Use only the official website or iOS app.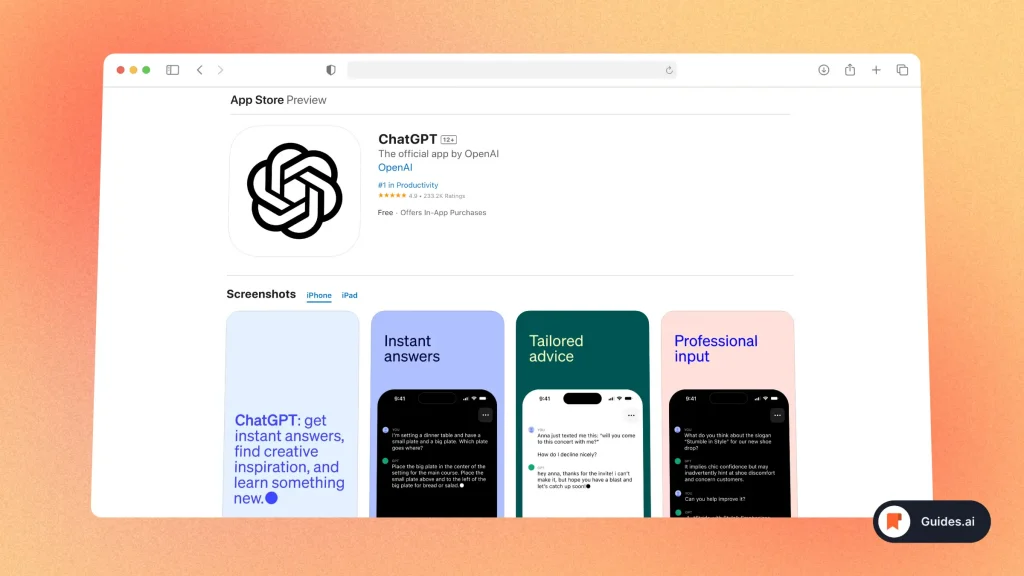 Why: Avoid scam versions that may misuse your data.
Warning: There's no legit Android app as of now.
Official App Links
1. Website – ChatGPT Web App
2. iOS – ChatGPT App Store
3. Android – ChatGPT Play Store
5. Extensions
Research before installing any ChatGPT-related browser extensions.
Why: Some might be phishing scams or data harvesters.
Read further: 15 Best (and safe) ChatGPT extensions
6. Data deletion
You've got two options:
Permanently delete your account
Email for data deletion
The official email for data deletion is: [email protected]
Why: If you're not satisfied with ChatGPT's data policies.
However, be careful with this. This action cannot be undone.
Conclusion
That's all you need to know about staying safe and other data-related concerns of ChatGPT.
Hope you learned something new in this guide!
Learn how to become more productive with our guides on how to use AI.
Thank you for reading this,
Ch David and Daniel